Around this time last year, our clients were calling off their in-person events almost daily; our calendar suddenly looked barren, and our cash flow was drying up faster than a mudhole in the desert.
Fortunately, many of those same clients then came back to us with requests to take those events online rather than cancel outright, but after some dilly-dallying we were left with just a few short weeks to make it happen.
When I took on the role of video production manager at Co-mana in 2014, I suffered from imposter syndrome. I thought depth-of-field was a sports analogy. But flashforward seven years later, and I am rather pleased with the knowledge and expertise we have been able to acquire in most areas (live action, motion graphics, 3D, talking heads, etc.). I recall very distinctly though that our Achille's heel was live streaming. It just seemed like too much hardware investment and reliance on things like network performance that were beyond my control or understanding.
And then suddenly demand for our bread-and-butter video projects dried up with the first lockdown, but demand for live streaming exploded. We would be made to face our streaming demons. I did take solace in the fact that it would be almost hardware free; that we were going to steer these projects from our homes with software-based solutions and shoddy internet connections. Back to basics. And a good time to get onboard.
But in the meantime, our in-person events business grinded to a halt. Half of our twenty-strong staff are events coordinators and were furloughed early on. We have a graphics department that was able to stay afloat providing digital tools and assets to regular clients. And then in the video department, which was just a four-person operation, we had to continue to churn out video projects, and on top of that we were suddenly saddled with virtual events because… hey… it's all video anyway, right?
After stretching the capacity of our department for some months and jeopardizing our regular video projects in the process, we were near breaking point. Management was supportive and prepared to hire whoever we needed to strengthen the team. The problem was that we did not know what the position was that we were trying to fill. Initially, we were convinced we would need to hire a "digital specialist" in some shape or form, possibly even a developer.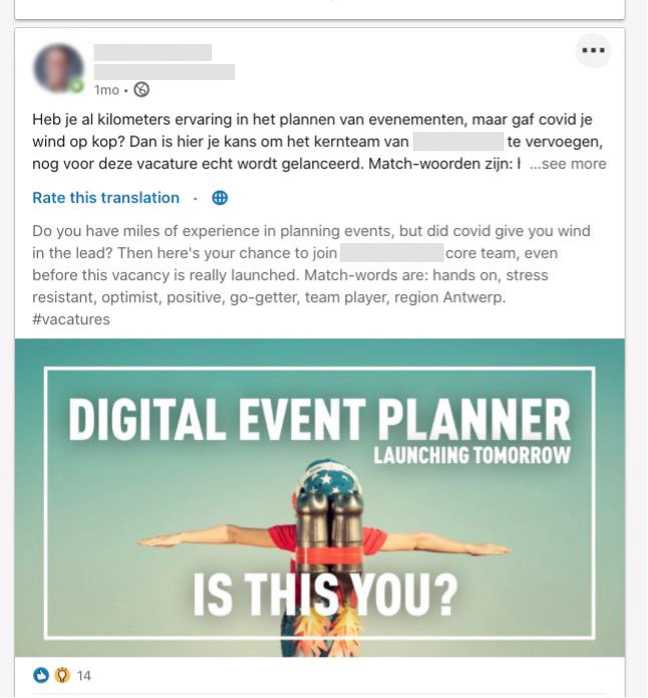 But we could neither articulate the profile or job description of that person, nor convince ourselves that we could/should be a tech company. Our strategy from the outset was to be platform-agnostic. In the Spring of 2020 we splurged money, trialing every webinar solution under the sun and committing to several for a longer period. We consistently monitored and tested all the new features in Zoom and Microsoft Teams; we purchased a license for a fully-customizable events platform and landing page with Zoom and Jitsi integration; we went Premium on Vimeo (as our preferred streaming platform) and we signed up for Hopin's Early Access plan. On the broadcasting side, we learned OBS, picked up a Vmix license, but also kept coming back to StreamYard for the simplicity and reliability. Incidentally, few were happier when news broke that Hopin had acquired StreamYard (except maybe Geige and Dan at  Streamyard) because – on some level – it felt like we had bet on the right horse.
Come the end of the summer we had produced a handful of online events with mixed results. The webinars we produced from A-Z (from registration to full analytics reporting and broadcasting via RTMP for that added production value) were hits with our clients who were thrilled with the turnout and retention numbers.
Social events however were more of a challenge. We are probably not the only ones who struggled to make these sorts of events sufficiently interactive and engaging – particularly in the breakout sessions. But it is probably a forgone conclusion that social events that are not strictly "content driven" lose their appeal almost entirely if they can no longer be "destination driven" (pick your hotspot from the sunny Mediterranean cities in Europe).
It is probably a forgone conclusion that social events that are not strictly "content driven" lose their appeal almost entirely if they can no longer be "destination driven."
The mood at the office was somber six weeks ahead of what was scheduled to be our debut event with Hopin, for the Belgian Surgeon's Week, a medical conference gathering 600+ clinical specialists, fellows and trainees in Europe and the U.S., 90 pre-recorded presentations with live Q&A in four rooms simultaneously.
But the presentation recordings and editing proceeded at a good pace (in Streamyard), and we scheduled dry runs both for plenary and sessions to onboard speakers and moderators at the event. One of the many challenges for us was to broadcast simultaneously to four rooms in Hopin's sessions, which we used effectively as multiple main stages before that feature was available. We could not afford four professional broadcasting stations and operators, so we appointed two of our junior event coordinators to broadcast with Manycam (a simple and affordable virtual camera solution).
In the run-up to the event itself, eight of our colleagues from the events team stepped up to the plate to support us in a variety of roles, from ticketing and registration, to managing pre-recordings, speaker management and orientation on Hopin, troubleshooting and even broadcasting (as mentioned earlier). The office was like a Mission Control Center, buzzing with positive energy as we were fired messages to each other on Teams and to participants in the chat on Hopin.
We watched with bated breath as session rooms opened, viewers trickled in, speakers and moderators took the floor, video presentations were shared, followed by Q&A. Everything ran like clockwork: a short introduction, followed by a 6-minute video case, then 3 minutes for live Q&A with the fellow doctor, and repeat… The moderator was spoiled for choice with good questions coming in on the chat from keen viewers on almost all presentations. There was a sense of a scientific community coming together and a genuine exchange and knowledge sharing. As her final session drew to a close, one of the moderators (a senior medical specialist) glanced at the viewer count for the session and championed the format of the event, concluding that this was far better than speaking to a half-empty venue.
We were over the moon of course after such a successful event. But more fundamentally, when we realized that the support we needed could come almost entirely from returning colleagues (in sometimes surprising new roles) rather than new hires, that was our "aha moment". The take-away for us was not to interview for a hybrid position we could not quite define, but to learn by doing, specialize and assign new roles internally as required.
As a part this transformation process, we codified a set of key roles to run our digital events.
If you want to find out more about the key roles for digital events and how they play off each other,
you can read on here
.
The point of this exercise was twofold: on the one hand, it helped us to split our team evenly across all roles, making sure we always had team resources available to take on any project; and on the other hand, it painted a picture for our staff of key new areas of specialization they could jump into and new skills they could acquire (either technical or people-orientated) in order to grow within our organization.
Event organizers should blend hard and soft skills.
It was time to bury the notion that there is such a thing as a "digital event planner". You might as well hire a boy strapped to a rocket booster. Event organizers should instead blend hard and soft skills with the option of hiring or consulting for more specific roles.
__